Packaging tray Transparent blister PET plastic tray
Product Detail
Product Tags
| | |
| --- | --- |
| Product Name:Fruit/Vegetable Packing Tray | Product Model:TM001-TM010 |
| Brand Name:Kaizheng | Place of Origin:Guangzhou,China |
| Material :PET | Occasion:Packaing |
| Size:Various | Color: Transparent |
| Shape: Rectangle | Custom-made:NO |
| | | | | | | |
| --- | --- | --- | --- | --- | --- | --- |
| Product Model | Color | QTY | size | weight | FCL packing size | FCL weight |
| 1912A | Transparent | 2000 | 18.5*11.5*2.5cm | 6.8g | 39*39*24cm | 15.5kg |
| 1912B | Transparent | 2000 | 18.5*11.5*2.5cm | 7.3g | 30*37*24cm | 15.5kg |
| 1410 | Transparent | 3000 | 14*10*2cm | 4..7g | 35*32*28.5cm | 15kg |
| 1414C | Transparent | 2000 | 13.5*13.5*2cm | 3.8g | 30*26.5*26cm | 11kg |
| 1710 | Transparent | 2000 | 16.5*10.5*1.5cm | 5.4g | 33*28*22cm | 11.5kg |
| 1511 | Transparent | 2000 | 15*11*2cm | 6.6g | 47*32*23cm | 13kg |
| 2011 | Transparent | 2000 | 19.5*11*2cm | 8g | 39*32*22cm | 15.5kg |
| 2215 | Transparent | 2000 | 21.5*15*3cm | 11.7g | 43*39*32cm | 23kg |
| 1914A | Transparent | 2000 | 18.5*14*2cm | 8.2g | 37*32*27.5cm | 16.5kg |
| 1914B | Transparent | 2000 | 18.5*14*2cm | 8.4g | 37*32*27.5cm | 16.5kg |
| 2013 | Transparent | 2000 | 20*13*2cm | 8g | 39*33*25.7cm | 15.5kg |
| 2013D | Transparent | 2000 | 20*13*2cm | 11.4g | 39*33*25.7cm | 15.5kg |
| 2513 | Transparent | 2000 | 24.5*13.5*2.5cm | 11.2g | 48.3*31*27.5cm | 24kg |
| 1616 | Transparent | 2000 | 16*16*2cm | 8.7g | 36*32*32cm | 17kg |
| 1813 | Transparent | 2000 | 17.5*13*2cm | 7.2g | 36*33*26.5cm | 16kg |
| 3313 | Transparent | 1000 | 32.5*13*2.5cm | 15.5g | 41*34*28cm | 16kg |
| 2721 | Transparent | 500 | 27*21*3cm | 21.7g | 51*28*22cm | 12kg |
| 2518 | Transparent | 1000 | 24.5*17.5*3cm | 16.5g | 57*35*25cm | 17kg |
| round big | Transparent | 2000 | 23*17*2.5cm | 11.2g | 48*32*36cm | 23kg |
| T-07 /1811 | Transparent | 2000 | 17.5*11.5*2cm | 7.3g | 36*32*23cm | 15.5kg |
| round small | Transparent | 2000 | 21*15*2cm | 9g | 44*32*32cm | 18.5kg |
| 1910 | Transparent | 2000 | 19*10*2cm | 6.4g | 39*34*21cm | 13.5kg |
| 2516 | Transparent | 1000 | 25*16*3.5cm | 17.8g | 46*35*25cm | 17kg |
| 2015 | Transparent | 2000 | 19.5*14*2cm | 9.3g | 39*31*29cm | 13kg |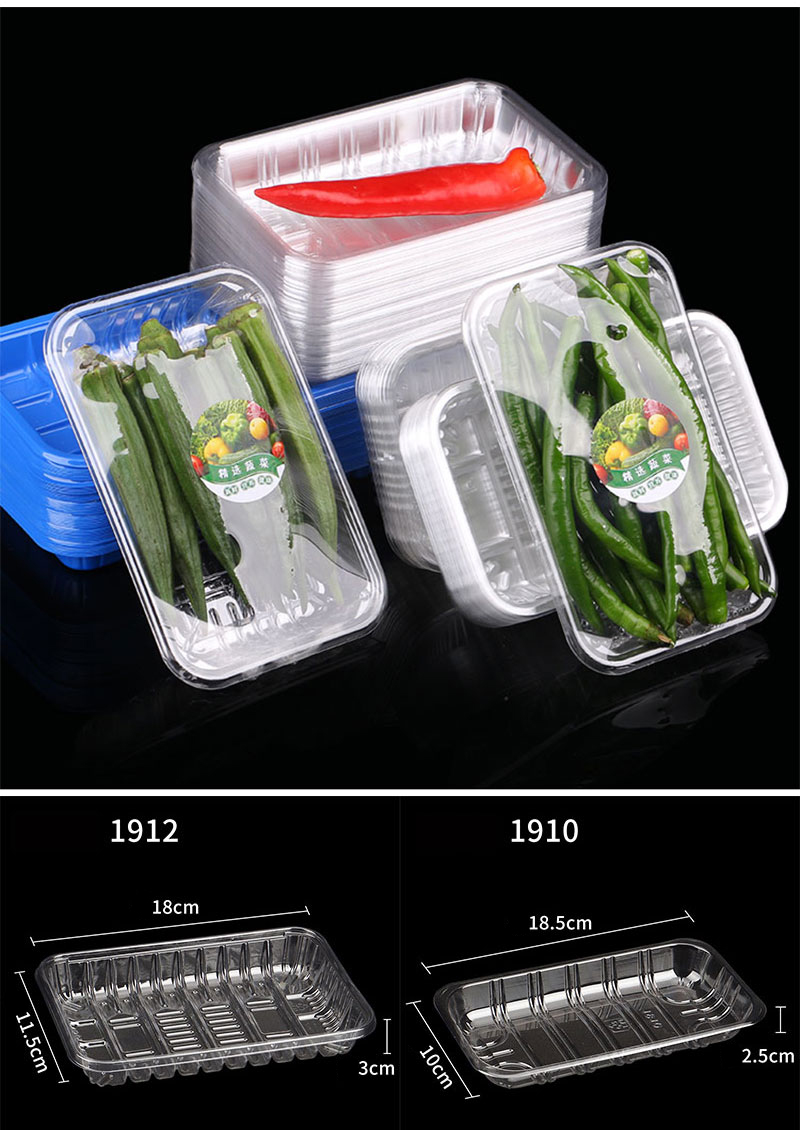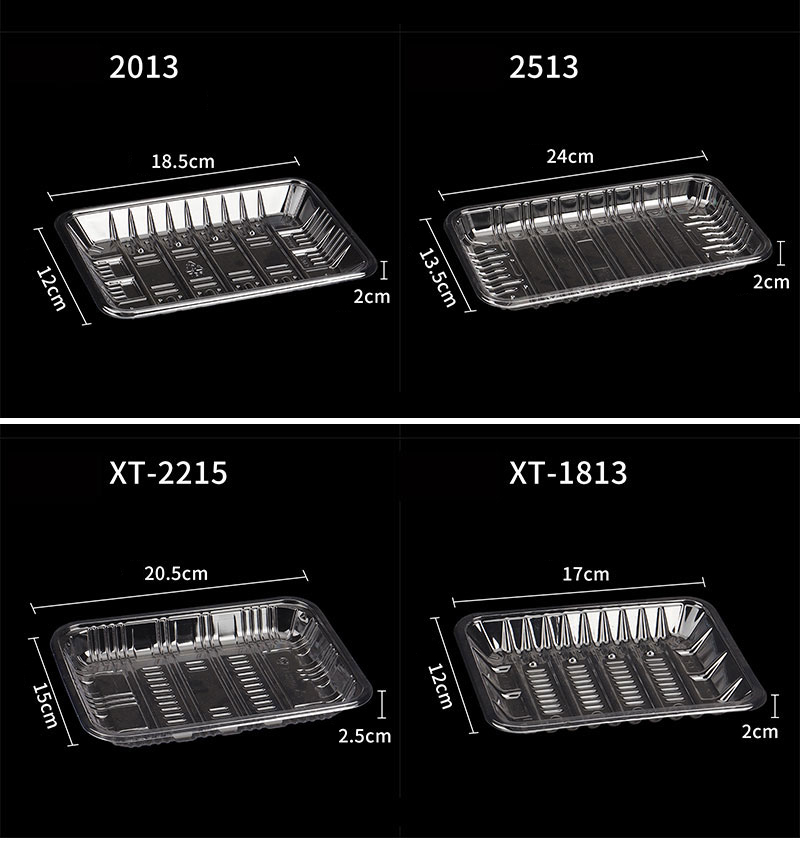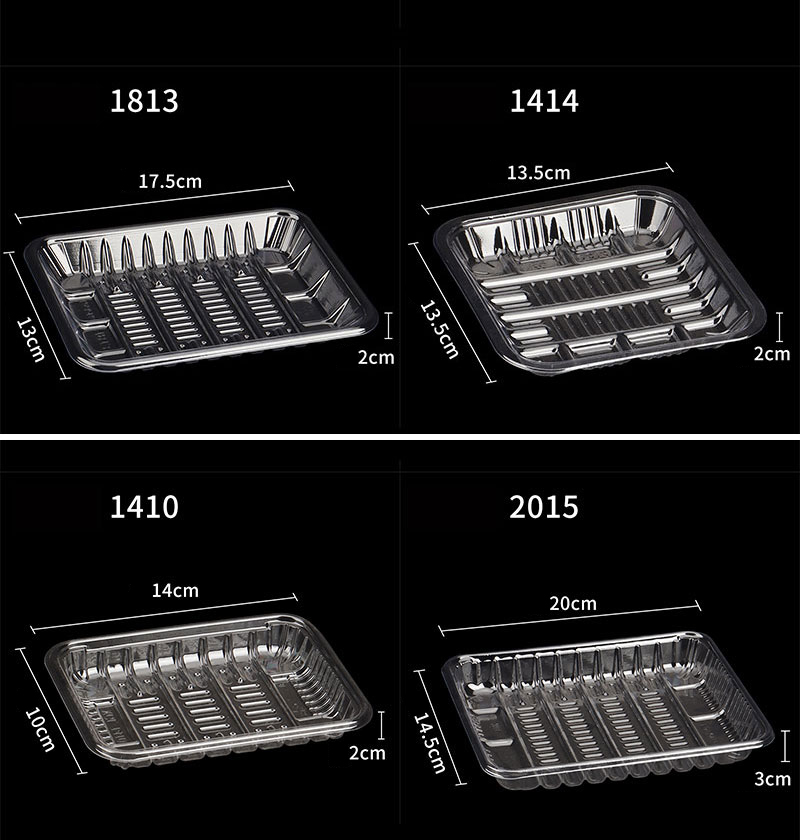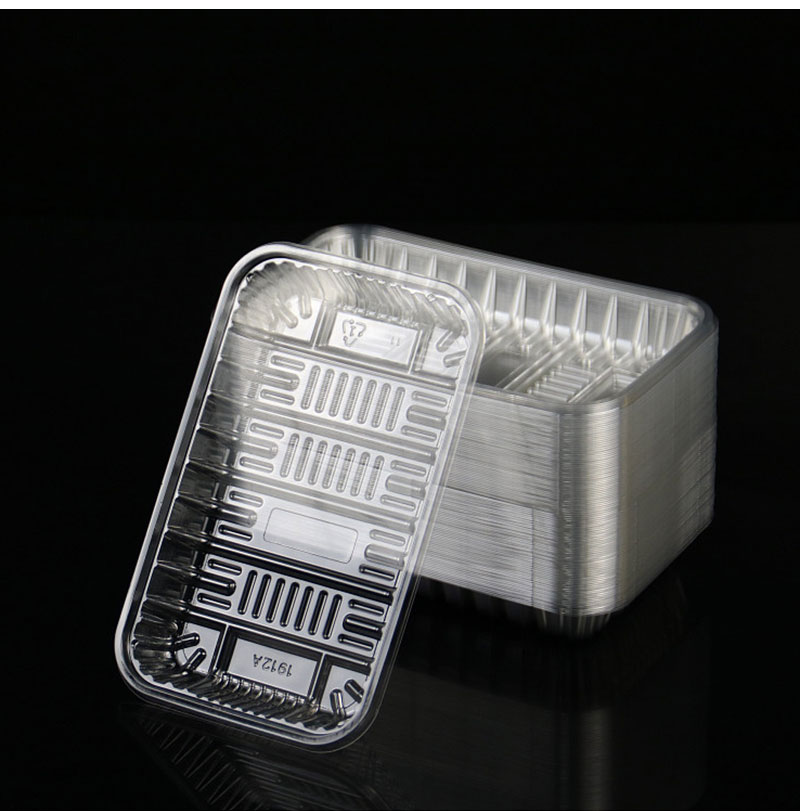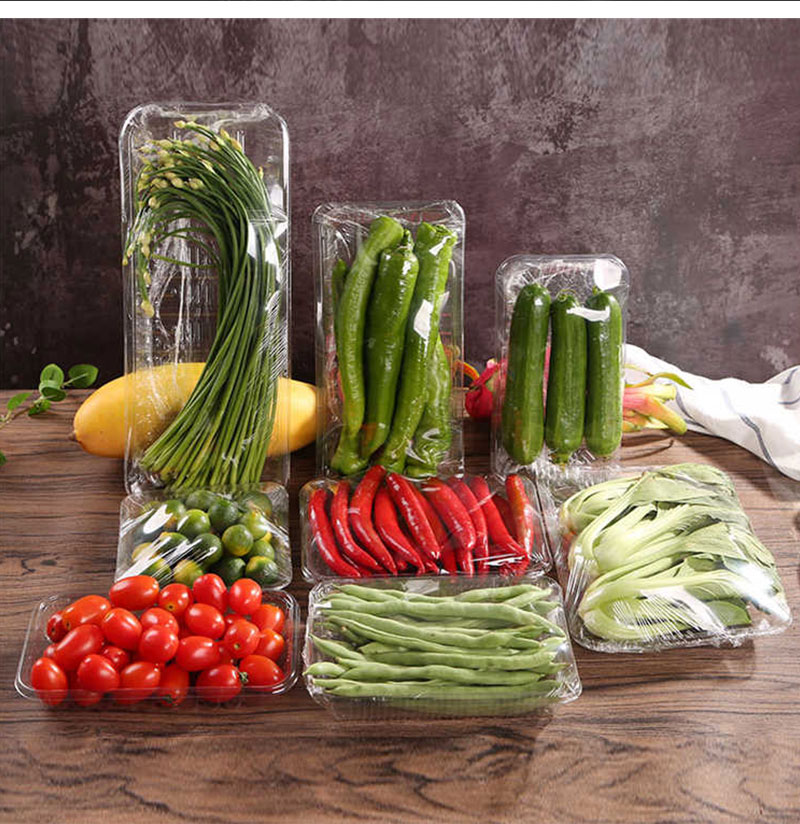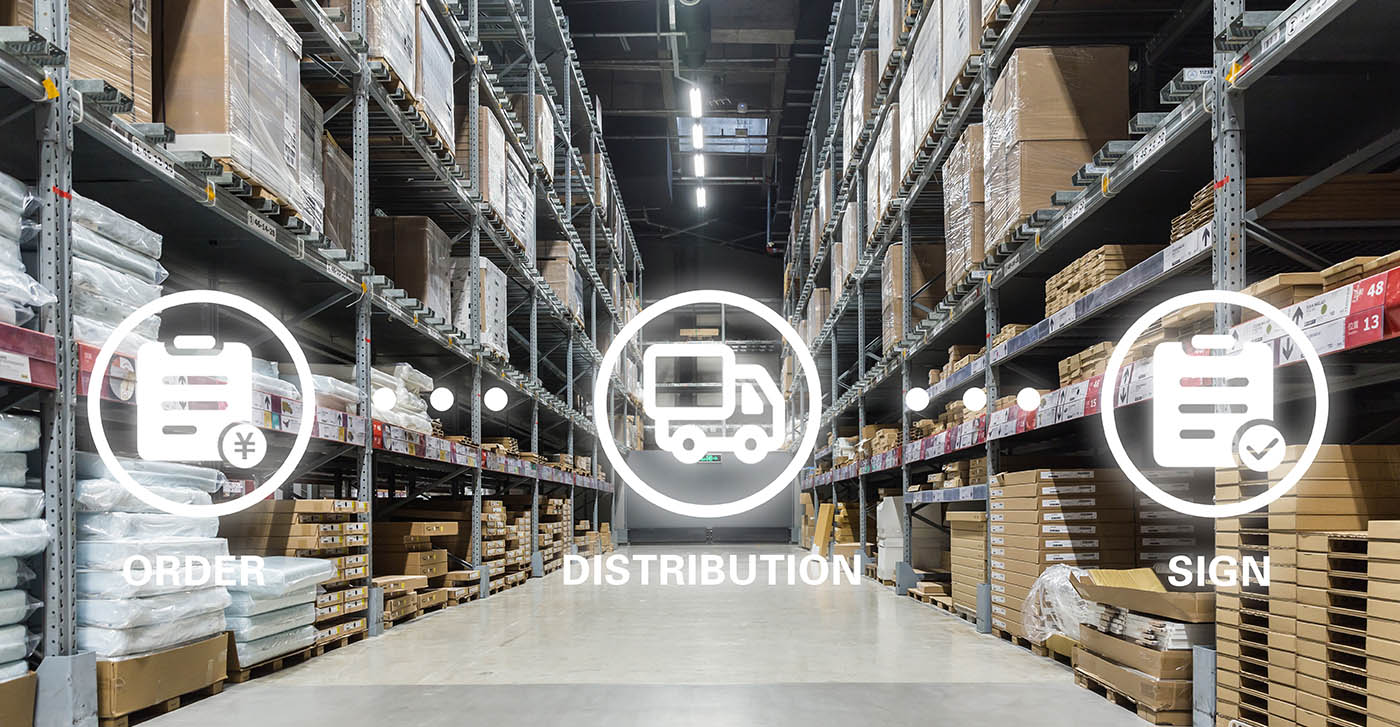 Certificates of Qualification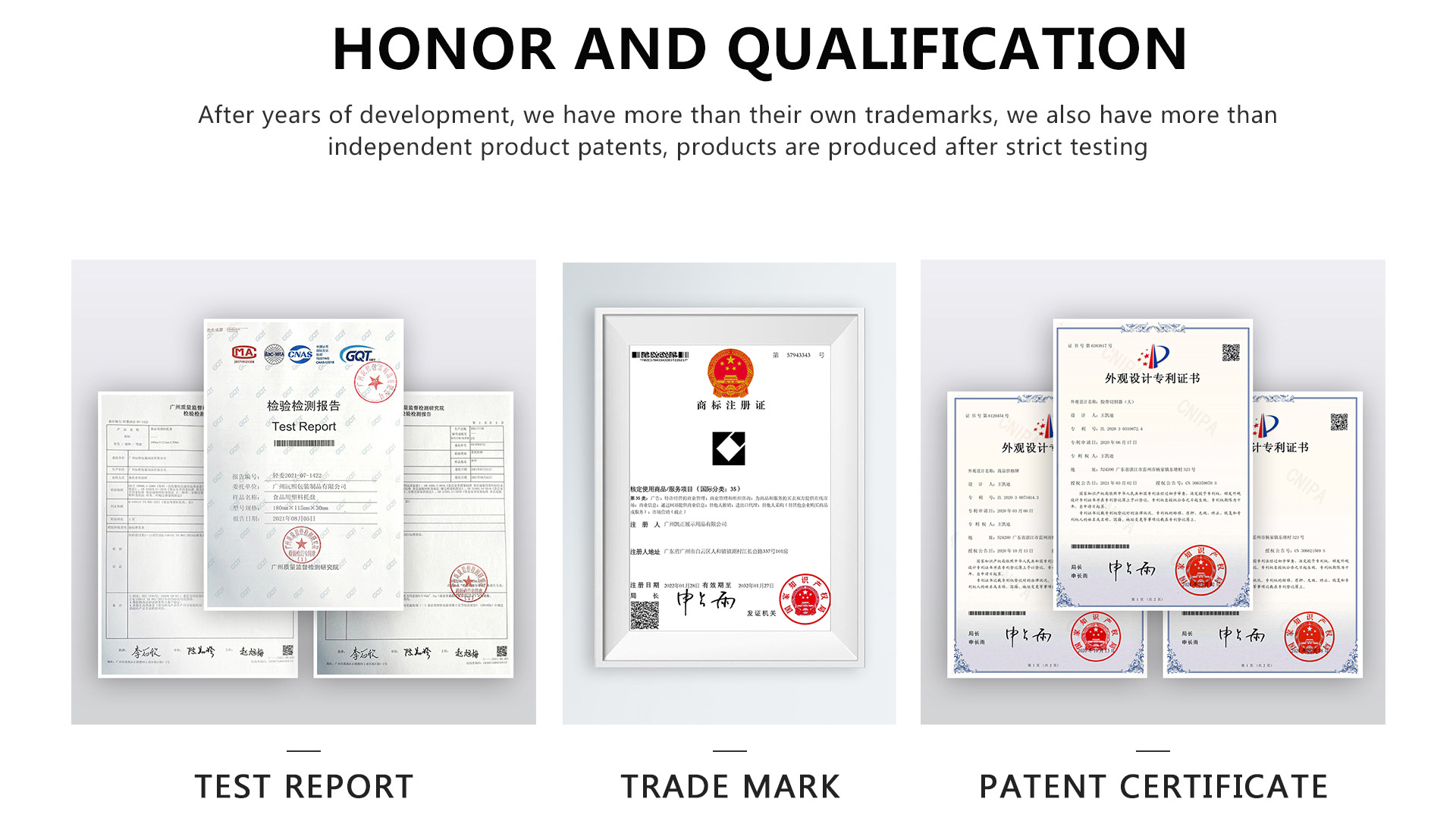 1. What material is the product made of?
Answer: This product is made of PET transparent material, which has passed the national food safety inspection. The product is food-grade material and can be directly contacted with food.
2. What are the product specifications?
A: This product has dozens of commonly used specifications, which are suitable for most commonly used specifications in supermarkets, and can also be customized if there are special sizes.
3. Is the product resistant to freezing and heat?
Answer: Most of the products are suitable for refrigerated and fresh, not suitable for heating or excessively high temperature.
4. Is the material fixed? Is it customizable?
Answer: This product is a commonly used material. If it is customized, as long as the blister process can be adapted, it can be customized, but it must be a food-grade material!
5. Is the sample free? How long will it take to sample?
A: Due to customization, another mold needs to be opened. The mold development cycle is 7-15 days. If you need to customize, please provide samples or design drawings! Proofing will be charged a prototype template fee, depending on the actual situation.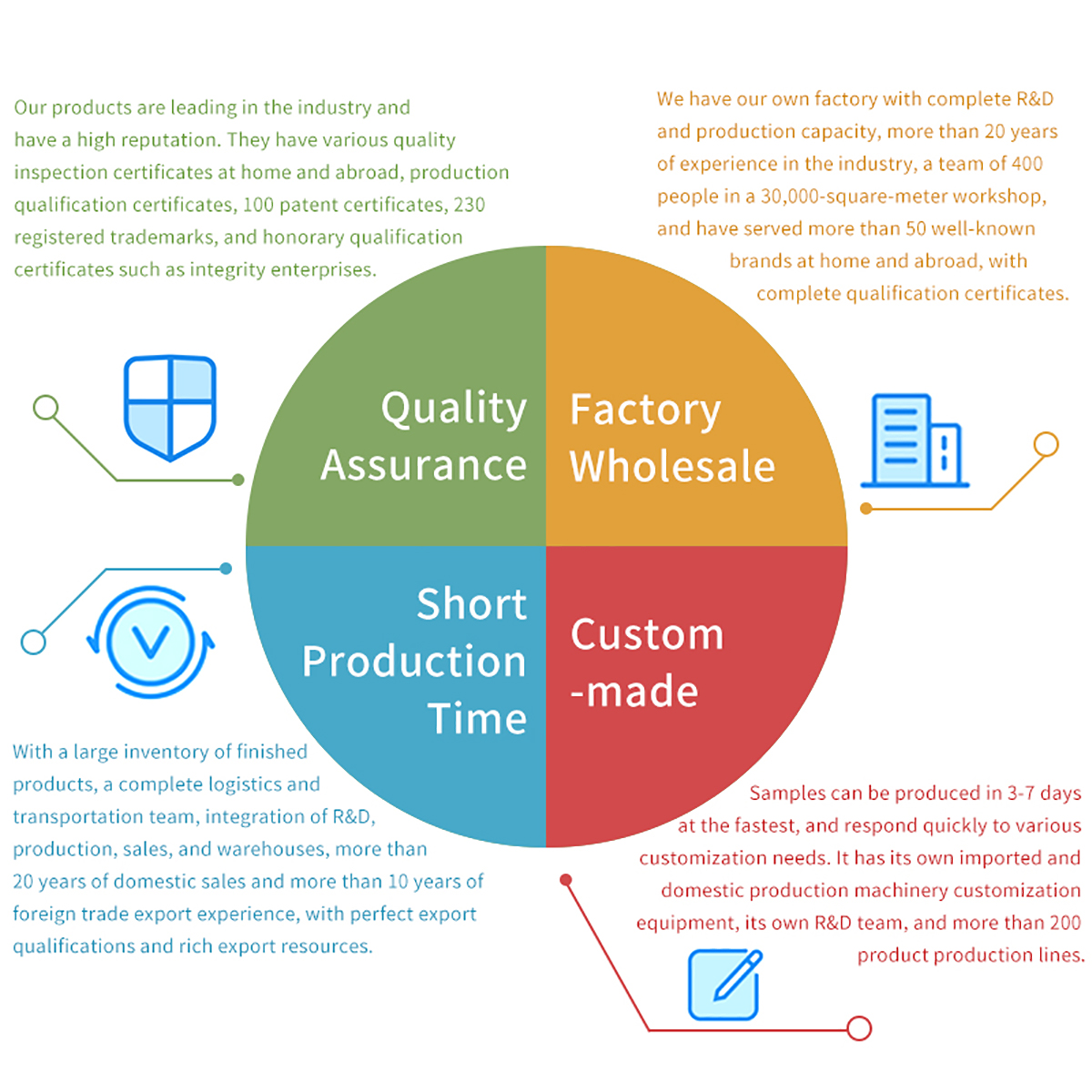 ---
Next:
Packaging Meat Display Tray Disposable Blister Food Packaging Food Packing Polystyrene Frozen Plastic 0.1mm~0.3mm Eco-friendly
---
Write your message here and send it to us